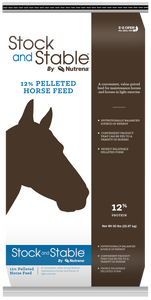 Stock & Stable® By Nutrena® 12% Pelleted Horse Feed
A convenient, value-priced feed for maintenance horses and horses in light exercise
Stock and Stable® 12% Pelleted Horse Feed is a nutritionally balanced source of energy that can be fed to a variety of horses
Use the feeding table as a guide for feeding
Stock and Stable® 12% Pelleted Horse Feed.
| Class of Horse | Lbs. Feed/100 lbs. Body Weight |
| --- | --- |
| Maintenance | 0.5 - 1.25 |
| Light Exercise/Breeding Stallion | 0.75 - 1.25 |
| Medium Exercise | 0.9 - 1.5 |
Be sure to monitor your horses body condition closely and adjust the feeding rate as necessary for the desired body condition and activity level.
Feed with clean, good quality hay at the rate of 1.5-2.0 lbs per 100 lbs of bodyweight per day or the pasture equivalent.
Divide the recommended feeding level into two or more equally spaced feedings per day.
Fresh, clean water should be available at all times. 
Horses should be maintained at a body condition score of 5.0 or above.  
Salt should be available free choice. 
Minerals may be offered.
All dietary changes should be made gradually over a period of 7-14 days until recommended feeding rates are achieved.
---
We Also Recommend
---