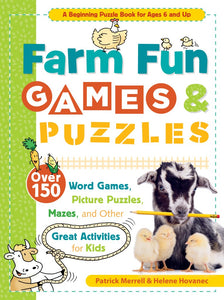 Hachette Farm Fun Games & Puzzles
Description:

From acclaimed puzzle creators Patrick Merrell and Helene Hovanec comes a barnyard full of fun farm-themed puzzles. From mazes and picture puzzles to brainteasers, word searches, jokes, riddles, and more, 200 puzzles will keep kids screen-free and entertained for hours: 
Find the differences between two chicken coops
Match the baby animals to their parents
Unscramble words to label the parts of a pony
Try saying "Cows Count Crow Crowds" three times fast
Activities increase in difficulty throughout the book, keeping kids engaged as they learn more on the farm. Lively and humorous cartoons of favorite barnyard animals encourage farm-loving kids page after page and teach them about life on the farm – keeping your future farmer happy as a pig in the mud for hours on end!

Genre:

Details:

On Sale: Mar 1, 2022
Page Count: 240 pages
ISBN-13: 9781635865226
---