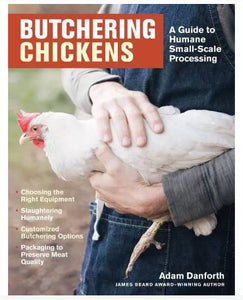 Butchering Chickens: A Guide to Humane Small-Scale Processing
Expert guidance for taking your birds from pasture to freezer. From a master teacher whose writing on butchering has won awards from the James Beard Foundation and the International Association of Culinary Professionals.
Humanely slaughter and expertly butcher the birds you've raised so well. With Adam Danforth's comprehensive step-by-step manual, you will learn how to close the loop on poultry production so your birds will never have to leave the farm.
Set up the right conditions

 

for slaughter to reduce stress on your chickens and ensure scrupulously clean work areas.
Select the right tools and learn the correct methods for slaughtering your birds safely and with consideration for their well-being.
Butcher the carcass for the cuts you want, whether the standard eight pieces or more particular cuts, and learn how to use the entire bird, from the schmaltz to the feet, for full-flavor cooking.
Package and freeze your meat to preserve quality, appearance, and freshness so that the chickens you raise and process yourself will nourish everyone they feed.
About the Author
Adam Danforth is an award-winning author who trained at the professional meat processing program at SUNY Cobleskill. He leads experiential workshops worldwide on butchery and meat science. Danforth lives in Ashland, Oregon, and can be found online at www.adamdanforth.com.
---
We Also Recommend
---