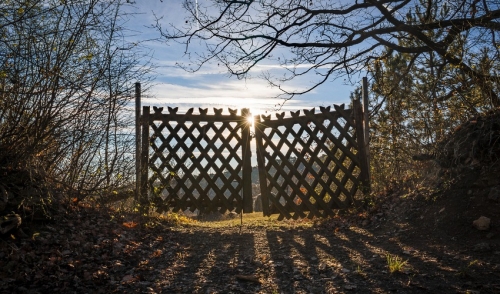 After some years of wear and tear, fence gates can sometimes sag down and not link up to the latch like they used to. Here are some tips for repairing the gate and getting it like new again:

Look for the problem
Look at the typical problem areas first. Make sure that the posts are still perfectly level vertically as well as checking the hinges. Deteriorated hinges are commonly the cause for your gate to sag.

Hinges
If you find that the hinges are the problem, remove both of the bolts or screws from the lower hinge of the gate. Then, once that is done, take out only the lower bolt from the top hinge.

Get it into position
Line up the gate with the latch and put something under the gate to hold it level like a brick, block, etc. Once you have it shored up, put the bolt back into the bottom hole of the top hinge.

Reset the bottom hinge
Now that the top is level, it's time to reposition the bottom. When you put the hinge back, or you bought a new one because the old one was rusty, it most likely won't line up with the old holes. This is not abnormal because this is the reason that the gate was drooping. Get out your drill and put new holes where you need them. Remember that the hole you drill should be one size smaller than the screw you are putting back in so it fits snug.

Back together
After you have put the bolts/screws back into the gate in the proper spots, it should swing freely and go right to the latch like it's supposed to.